Custom-made foam inlays for tools
in protective case -
ready to go!
Take advantage of the opportunity and work with us to develop your ideal solution for an individually equipped tool case. It is up to you which tools should go into the special foam inserts: your products (e.g. special tools, measuring devices, etc.) or our high-quality tools. There are also a variety of Peli brand cases available that are suitable for flight and have IP67 protection.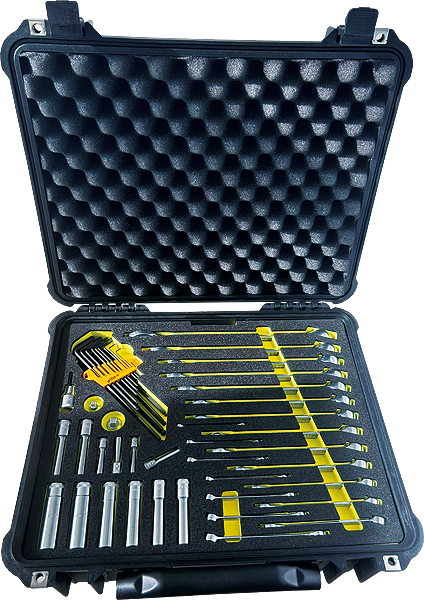 Your advantages
Joint, cooperative handling of the procurement project with personal advice
tool management tailored to your needs
the use of a high quality foam inlay system
Development of a layout that suits you (CAD drawing)
Large selection of matching protective cases that enable the inserts to be stacked
Top-protected tools and measuring devices for mobile use
Airworthy and IP67 protected branded cases with pressure compensation valve
Project process
Initial consultation to determine the tools required and the existing equipment and tools to be taken into account by the customer.
Send the tool requirements list to us to work out the required inserts and discuss the desired division.
After determining the desired or required dimensions of the inserts, a suitable case is selected for the application.
You will then receive a corresponding offer from us as well as schematic drawings (CAD) of the tool inserts.
When the order is placed, the inserts are made, all tools are fitted, sorted and sized and handed over to you in the selected case.
Note: If certain tools (special requests) are missing from the very comprehensive tool database, it would be necessary for you to make them available to us for measurement and fitting into the foam inlays.
Peli protective case
A large selection of different models and sizes! Find out more about the available protective cases in the product group company equipment.
We are happy to answer any questions you may have.
+43 (0) 3172/4755-0
This email address is being protected from spambots. You need JavaScript enabled to view it.